Tel: 86-519-83881978
Mobile: 86-15206119288
Fax: 86-519-83885788
Add: Xilin Town, Changzhou City, Jiangsu Prov, China
Industry News
Plexpoindia 2013
Event Profile
Plexpoindia 2013, an exhibition on plastics, is the 6th edition of Plexpoindia. It is a fabulous show where manufacturers, machinery & equipment, dealers, suppliers of raw materials, traders, ancillary equipments, chemicals & additives, and testing equipments will come together. The event will showcase plastic raw materials, packaging materials, moulds, dyes, and other plastic related products. The event will highlight newer technology, products, applications and machinery that bring higher output and lower power consumption.

Visitor Profile
The targeted visitors at Plexpoindia 2013 are companies/firms dealing in:
Household and General Product Manufacturers, Food & Beverage manufacturers/ distributors, Dealers & Suppliers, Printing & Packaging Specialists, Chemical Importers Electronics/ Electrical Appliances, etc...

Exhibitor Profile
The targeted exhibitors at Plexpoindia 2013 are companies/firms dealing in:
Polymers & Resins, Petrochemicals, Specialty Chemicals, Blends & Alloys, Rubber Processing Machines, Composites, Additives, Fillers & Reinforcements, Processing Machinery, Moulds & Dies, Ancillary Equipment, Printing Machine Lamination and Allied Equipments, Packaging Machine, Semi-Finished & Finished Plastics Products , Compounding Machine, Intermediates, Quality Control and Testing Equipment, etc...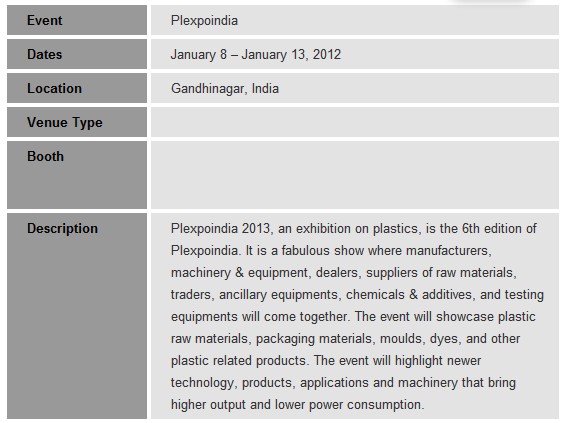 website:http://www.indobase.com/events/details/plexpo-india.php